RedR Indonesia was involved as an observer in Essentials of Humanitarian Practice (EHP) and Hostile Environment Awareness Training (HEAT) activities in RedR Australia from 26 April until 7 Mei 2022. Our Training Coordinator of RedR Indonesia, Mr. Wiwit Prasetyono involved in a series of in-class activities and simulations.
The EHP Training prepares everything humanitarian responders need to know about working within the modern humanitarian system and what it takes to respond to an international humanitarian crisis that involves a global response. Whilst the HEAT Training prepares individuals to work in crisis zones or a range of hostile situations. Basically, EHP and HEAT Training are the main courses at RedR Federation. RedR Indonesia continues to strive to gradually build EHP and HEAT training in Indonesia.
Humanitarian workers and professionals are increasingly exposed to challenging, insecure, remote or hostile environments due to lawlessness, political instability and armed conflict. It is essential they are adequately prepared for any dangers they may encounter.
On this training course, participants will learn the complexity of the international humanitarian relief system and the legal framework for humanitarian assistance. They will discuss the characteristics of natural hazards, conflict-induced emergencies, and the requirements for an effective humanitarian response, highlighting some of the dilemmas faced by humanitarians and aid workers. In order to strengthen participant awareness of personal safety and prepare them for challenging security scenarios, the training is delivered in rigorous classrooms and simulations.
Participants in the program will learn how to handle conflicts and crises safely, as well as how United Nations organizations handle disasters and the roles these organizations play in coordinating responses for various sectors such as health, water and sanitation and logistics.
The training introduce participants on how international non-governmental organizations collaborate to exchange information and data, prevent duplication, and guarantee humanitarian aid reaches those in need without harming anyone. Participants also looked at developing the teamwork abilities needed for efficient fieldwork.
Both training are internationally recognized for preparing humanitarian actors for challenging scenarios. The arrival of participants has been set up into the emergency situation ever since the first training day. On the on the arrival day, participants must report to the guard at the UNHCR tent to register. Because they were a disaster response team, everything was checked, participant's photos were taken, and a walkie-talkie was provided while they are attending the training.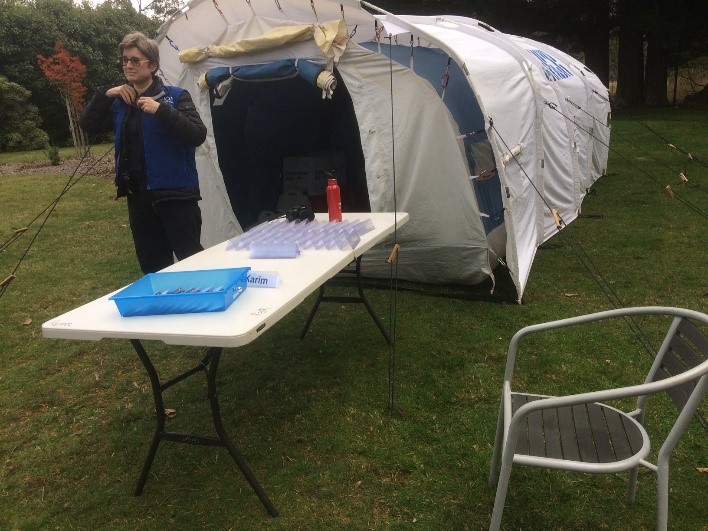 Participants were brought inside the main room that had been set up as the Operation Center (OC) after passing the checkpoint.
After the general case study, participants were split into smaller groups to respond to questions on the specific case study. Risks, alternative strategies, resources, information, and other factors that influence decision-making are discussed in this session. As we all know, in an emergency, making the proper choices is not easy. In order to respond in a way that is appropriate, dignified, considers vulnerable groups, and poses no additional risks, humanitarian actors must understand the complexities and criteria of the international humanitarian assistance system.
RedR Indonesia aims to strengthen capacity of humanitarian responders through training activities. Several training programs that RedR Indonesia has been successfully managed are: Crash Course on Humanitarian Program for Desk Relawan supported by SIAP SIAGA, Locally Led Disaster Preparedness & Protection (LLDPP) training programme supported by ECHO, Localisation Program on Sinergy Project funded by BHA, Essential Humanitarian Training for TAGANA supported by UNICEF, and tailored training requested by several organisations, such as Save the Children and Mercy Corps Indonesia . In addition, RedR Indonesia released several training modules that can be visited through our link on: https://redr.or.id/kursus-pelatihan/modul-pelatihan/
Are you interested in participating the EHP and HEAT Training if it is held in Indonesia?