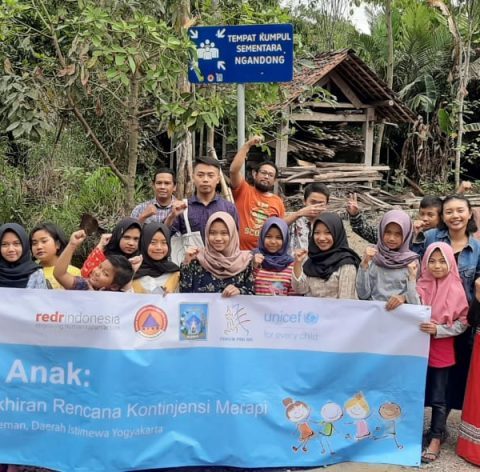 Child-focused Focus Group Discussion (FGD) – RedR Indonesia in collaboration with UNICEF Indonesia, Badan Penanggulangan Bencana Daerah (BPBD) Kabupaten Sleman, and Forum Pengurangan Resiko Bencana (FPRB) Daerah Istimewa Yogyakarta has successfully wrapped up Child-focused FGD in 7 villages within Disaster Prone Area III of Merapi as part of Update Merapi Contingency Plan Project.
The FGD was aimed to provide a platform for the children to be heard as their participation in the disaster preparedness plan. Children participation is crucial in such plan. Approximately 140 children from 7 targeted villages actively participated in the Children FGD. The children came from different backgrounds. It included those who experienced the Merapi eruption in 2010 and those who had never experienced any disaster. Furthermore, the participants also were of various ages groups, ranging from children from elementary students to high school students.
During the FGD, the children who experienced disaster were given more time to reflect on their experience in 2010 Merapi eruption and to express what they felt at that time, during their stay at the shelter, and to compare the situation with their current housing environment. Assisted by professional facilitators from Yayasan SAMIN (Child-focused Organization), the children were able to share their experiences on the 2010 eruption, and gave their input toward disaster preparedness in their own villages. Afterwards, they wrote down their aspirations for the disaster preparedness plan. The feedback also came from children who had never experienced any disaster.
Children's participation is very much needed in the contingency plan document, as children are also part of the affected communities during the emergency situation. Therefore, it is necessary to hear the children's voice in preparedness for emergency. According to Mr. Zainul Alim, Programme Associate, UNICEF Surabaya, it is children's right to participate and have their voices heard by adult. It is the responsibility of adults and government to ensure that children's needs are fulfilled during an emergency situation.
The FGDs in 7 villages also engaged children forums (Forum Anak) which were formed by the Sleman District office. This vibrant agenda is expected to be a good trigger for the children of Merapi to be more active and vocal regarding disaster preparedness activity. Last but not least, the children's participation of contingency plan development is expected to continue to support the project. Thus, the contingency plan will eventually be validated by children's perspective.