Last week, RedR Indonesia conducted its five-day Training of Trainers: Facilitation Skills for Humanitarian Trainers workshop in Yogyakarta (12-16 Nov 19). Eighteen participants from IFRC, RedR Indonesia, and local NGOs with varying degree of experiences in humanitarian facilitation attended the five-day training.
The trainers who facilitated the workshop this week were Dave Hodgkin from Humanitarian Benchmark, Tanaji Sen from RedR India and Rubby Emir from RedR Indonesia. Each trainer brought extensive operational, programmatic and training experience from across the humanitarian sector.
The TOT is centred around active learning tailored to each participant through participatory and practice sessions, comprised of group work and individual reflection sessions covering training theory and adult learning approaches. Each participant could develop and apply what they had learnt, in drafting and delivering session plans and sessions individually and in teams — allowing each participant to lead a session independently or in pairs — allowing for personal training sessions and feedback from the facilitators and their peers.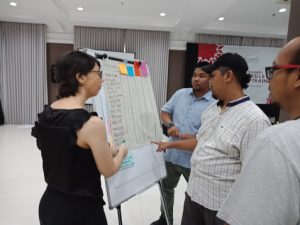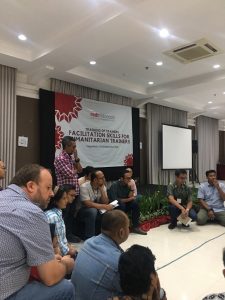 Each day consisted of varied sessions; Day one comprised of introduction and ice breaker sessions followed by planning training and developing sessions finishing off with working on facilitation skills. Day two allowed each participant to present mini-sessions individually using training methods and aids learnt in the previous sessions ending the day with a session humanitarian practice session with mentors. Day three is when each participant paired up for the CORE sessions, working on Humanitarian technical subjects taking turns throughout the day to present their findings to the larger group. Day four let the participants work with Dave learning about training evaluation methods then breaking into two groups in preparation for their session presentation, which happened simultaneously after lunch. The last day consisted of a continuation of the individual session presentations followed by the workshop evaluation and wrap-up.
The feedback from participants has been overwhelmingly positive with each participant commenting on the topics and aspects covered throughout the five days they found most helpful and insightful. Some of the topics mentioned were; planning and developing sessions, the mini individual session presentations and the CORE sessions.
This course is also essential to become an associate trainer with RedR enabling you to join our training team. To be an excellent facilitator, you do not need to be an expert, nor does it mean that an expert is an excellent facilitator.Overall the week comprised of analyzing sophisticated teaching methods, evaluate needs, assess the resources available and set priorities as coordinators and trainers in a crisis or training scenarios.