On Friday, 30th August 2019 RedR Indonesia concluded the third Foundational Humanitarian Training in Yogyakarta. The training, emphasizing on WASH in emergencies, invited 27 participants from government, international organizations, local NGOs, and volunteers who are directly involved in disaster management, especially in WASH cluster.
With support from UNICEF Indonesia, the training combined various methodologies and simulations, as well as exchanging lessons learned from the field among the participants. This is also to help participants, who came from various level of experiences, to have an equal understanding regarding the issues related to WASH in emergencies, as well as to help building better relationship among the institutions. As of now, WASH in emergencies in Indonesia is still under National Cluster for Displacement and Protection (Klasnas PP) and managed by Ministry of Social Affairs. The training invited government agencies related to WASH such as Bappenas/PPN, Ministry of Health (for hygiene promotion), and Ministry of Public Works (for water and sanitation). Thus, coordination is crucial to ensure the standards and goals are met.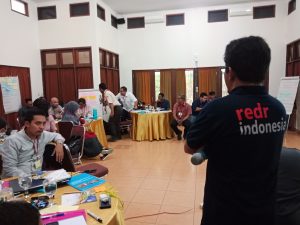 Just like in previous trainings, participants were also introduced to InaRISK, a portal of risk assessment results developed by BNPB (National Disaster Management Agency) using arcGIS server as data services that describes the scope of the area of disaster threat, affected population, potential losses and environmental damage as a resource for secondary data during assessment. Sphere was also used during the discussion of cross-cutting issues as well as during a session in creating a response plan and coordination simulation exercise.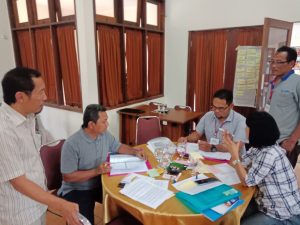 The main purpose of this five-day event is not to give technical knowledge for WASH issues in emergencies, but more about humanitarian principles, standards, theories, and coordination in the field, as well as the importance of WASH cluster during disaster management. At the end of the training, feed backs and reflection session closed the session in a positive note.