Last week, RedR Indonesia wrapped their second Foundational Humanitarian Practice training which is part of its partnership agreement with UNICEF Indonesia. This training took a focus on Education in Emergencies and invited 26 participants coming from ministries, local government, international and national NGOs, as well as local organizations.
The curriculum of the training module was initially designed with collaboration from RedR India which since then has been contextualized and localized with help from UNICEF. Similar to the previous training, the participants attended sessions where 70% of the material is generated towards foundational knowledge relating to humanitarian response, and the remaining 30% is specifically focused on education in emergencies.
Education cluster in humanitarian response is crucial in addressing the rights and needs of the children, who are one of the most vulnerable groups during emergencies. For children in emergencies, education is lifesaving. Therefore, it is necessary that humanitarian actors in this cluster are well-equipped, not only with logistics and skills, but also basic understandings of standards, terminologies, as well as strong network and coordination with other actors and institutions.
Therefore, the training is designed to not only consist of lectures but using various methods with participatory based approach. The participants were encouraged to actively participate in sessions through games and simulations, using theories and past experiences as guidance to emulate the real situations they may face on the field. Since the Day 3, the sessions were arranged in sequence, to deepen the understanding of project cycle management in emergencies in all stages, from needs assessment to proposing a response plan and collaborate and coordinate with other actors.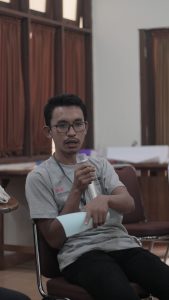 Through this training participants were also introduced to Sphere Handbook, a guidance for general standards for humanitarian response, as well as Buku Pedoman Penyelenggaraan Pendidikan dalam Situasi Darurat (Guide Book on Education in Emergencies Management) which is the reference specifically designed by Ministry of Education and Culture, UNICEF, and other organizations working in education, as a tool for humanitarian actors in responding the needs of education in emergencies in Indonesia. Participants were also encouraged to access secondary data available, such as from Dapodik (Data Pokok Pendidikan, managed by Ministry of Education and Culture) that is now integrated to InaRISK (managed by National Disaster Management Agency or BNPB), and using real-time assessment to update the data instead of relying on assessment in gathering information that can be time-consuming.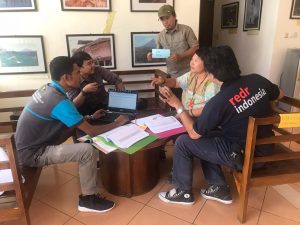 At the end of the training, positive feed backs were given by participants, especially for the simulation exercise. One participant from Central Sulawesi who works in addressing education needs during 2018 tsunami stated that the simulation addressed the unseen gap of coordination, which is the key to produce a good response plan so the aids can be delivered quickly and appropriately.