RedR Indonesia recently concluded a five-day Foundational Humanitarian Training for capacity building of TAGANA (Taruna Siaga Bencana), which is the last training event under RedR Indonesia-UNICEF Indonesia partnership cooperation agreement on capacity development of humanitarian responders. TAGANA is social volunteer group under Ministry of Social Affairs which works closely in social affairs and protection in all phases of disaster. TAGANA is one of the fast responders deployed by the government after disaster strikes and engages with the community in disaster prevention and risk reduction activities, including but not limited to needs assessment, shelter, evacuation, public kitchen, logistics, and psycho-social.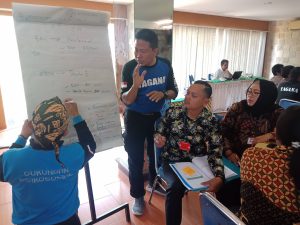 The training is attended by TAGANA representatives from DKI Jakarta, Banten, West Java, Central Java, DI Yogyakarta, East Java, Bali, West Nusa Tenggara, Lampung, Central Sulawesi, as well as representatives from TAGANA Training Center. There are 28 participants from those classified as TAGANA Madya, who has extensive experiences prior attending the training. Unlike previous training, this training is customized to the needs and duties of TAGANA in disaster management in Indonesia.
The event was graced by the presence of Rachmat Koesnadi, the Director of Social Protection for Survivors of Natural Disaster, Ministry of Social Affairs Indonesia who opened the training with a speech. Other than several lectures and group sessions about standard and principles of disaster response, TAGANA participants were also introduced to cluster system that works internationally and nationally, with hopes that TAGANA can play a larger role in sub-cluster coordination meeting.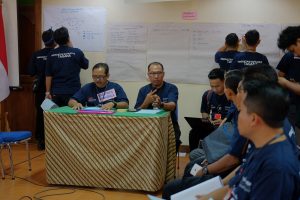 The simulation exercise at the last day of the training put an emphasize on coordination in disaster response, as normally TAGANA from neighbouring area would be deployed to assist in disaster area. The participants were quick to delegate duties into four groups, which were logistics, shelter, public kitchen, and rescue, then were instructed to coordinate and draw up a response plan together with training facilitators who acted as local NGOs and other non-government actors.
At the end of the training, TAGANA participants expressed gratitude and positive feedbacks as the training has helped them to be more familiar with terminologies, standards, and principles in disaster response, as well as creating stronger bond among themselves.