Due to its geological location at the confluence of the Pacific, Eurasian, and Indo-Australian plates, which is continually moving and subject to earthquakes, Indonesia is a region with a high level of disaster risk. Indonesia has a tropical climate with considerable rainfall due to its equator-bound location, which also increases the risk of hydrometeorological disasters. Disasters can harm the environment, result in illness, death, property loss, and psychological harm.
Disaster conditions, morbidity, and mortality are brought on by a variety of indirect effects as well. There are a number of factors that can contribute to an increase in morbidity and death rates during disasters, including a lack of access to clean water, appropriate food, and medicine (narrow, unsanitary, poor sanitation, etc.).
environmental health that affects the health of those living in disaster zones. For instance, the small, crowded refugee camps and lack of access to clean water can result in diarrhea, skin conditions, and other water-borne illnesses.
Intervention in the Water, Sanitation & Health (AMPL/WASH) sector in catastrophe scenarios in camps is necessary to lessen these negative effects. Clean water distribution, excrement management, health promotion, waste management, and vector control are all examples of WASH activities in emergencies. It is anticipated that the WASH intervention in emergency scenarios will maintain the refugee environment's health in order to reduce the morbidity and mortality of disaster-affected residents.
RedR Indonesia is an organization that is committed to responding to humanitarian needs and is actively engaged in continuously improving the quality of humanitarian actions that are based on the availability of competent personnel. In 2019 and 2020, RedR Indonesia worked with UNICEF to carry out a number of capacity building projects in emergencies in the fields of coordination, WSES, child protection, and education. In this year, RedR Indonesia in collaboration again with UNICEF from October 2021 to October 2022 to improve capacity for emergency preparedness and response at the national and sub-national levels.
The National Disaster Management Agency (BNPB) is responsible for overseeing all aspects of disaster management, according to the Indonesian Disaster Management Law. The Inter-Agency Standing Committee (IASC) Global Cluster Approach system was modified by the Indonesian government in 2014 under the direction of BNPB by forming eight national clusters for disaster management. AMPL is one of eight sub-clusters that make up the Ministry of Social Affairs' National Cluster of Refugees and Protection (Kemensos).
Along with enhancing disaster preparedness and response capabilities, the Ministry of Social Affairs also contributes to the creation of standards and guidelines for AMPLPDB. Technically speaking, the WASH-PDB is divided into numerous other ministries, most notably the Ministry of Health (Kemenkes), which is in charge of infection prevention, promotion, and control. The provision of water and sanitary facilities is the responsibility of the Ministry of Public Works and Housing (PUPR).
The coordination of disaster management is the responsibility of BNPB. The Drinking Water and Environmental Health Working Group (POKJA AMPL) or the Housing, Settlement, Water and Sanitation Working Group (POKJA PPAS), which coordinates planning, implementation, monitoring and evaluation, financing, and advocating WASH policies in the development sector, are led by Bappenas and the Ministry of Home Affairs (Kemendagri) in non-disaster situations.
The Ministry of Public Works and Public Housing, the Ministry of Health, the Ministry of Finance, the Ministry of Education and Culture (Kemendikbud), and NGOs involved in WASH in the development sector are among the organizations that make up the WASH PPAS Working Group. According to the evaluation report for disaster response 2018 by BNPB (2018), IFRC (2019), and AHA Center, the lack of functional alignment between ministries that serve as coordinators and technical organizers for WASH has resulted in stagnation where issues with coordination frequently have an effect on the efficacy of the overall response (2020).
Therefore, RedR Indonesia and UNICEF developed modules and provided training to government agencies and humanitarian activists covering the WASH sector at the national and regional levels. Targets at the regional level include 6 (six) provinces, namely Aceh, Central Java, East Nusa Tenggara, West Nusa Tenggara, South Sulawesi, and Papua. The provided training is anticipated to increase the capacity of governmental organizations, non-governmental organizations, and humanitarian activists, particularly in the WASH sector, and serve as a tool to strengthen networking and coordination between governmental organizations and humanitarian activists in relation to the activation of the WASH sub-cluster.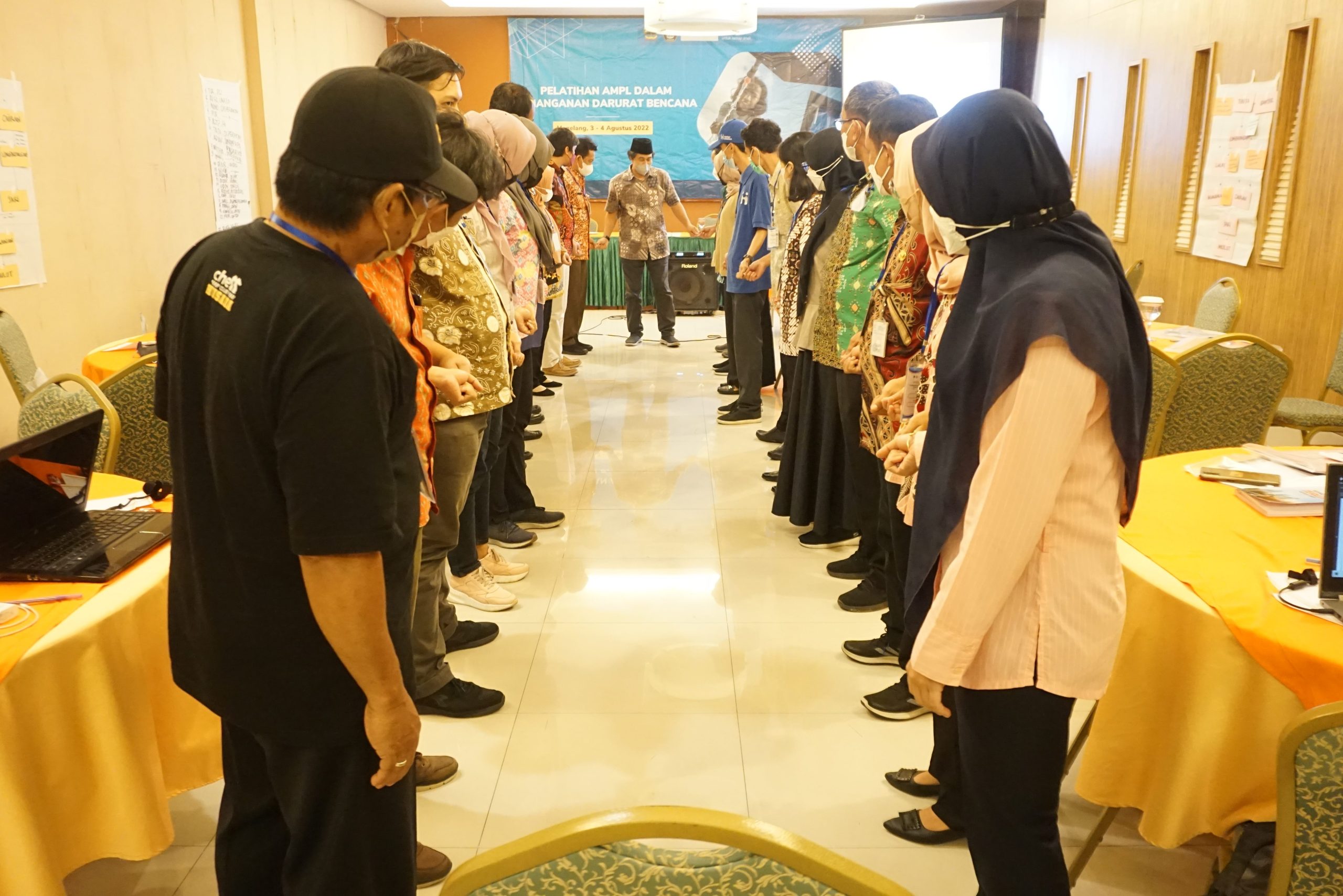 Do you have any specifications for the WASH field?
Humanitarians who are prepared to assist with disaster response activities should sign up as a roster.
More information https://redr.or.id/pendaftaran-roster-redr-unicef/